"I am running to remember my Uncle Eric and those he served alongside. Aged just 20, Eric was one of 148 crew members who were lost at sea when the HMS Beverley was torpedoed during World War II. Race for Remembrance is a way to honour Eric's memory and others like him by helping those who have served in our armed forces today." 
Take part in the Race for Remembrance 11k run this November and honour those who we've lost, by supporting those today.
This year don't reach Remembrance Day on 11th November wishing you had done more to show your appreciation for their sacrifice.
How: Simply run 11k as part of our virtual challenge (you can also choose to cover 11 miles or take part in a different way, just let us know how.)
When: Anytime during November 2021, but we recommend as near to Remembrance Day on 11th November or Remembrance Sunday on 14th November this year.
Where: Anywhere. Any route, anywhere in the world – team up with friends or family abroad and run or walk the 11k together, virtually.
Reg Fee: £15 – You'll receive a certificate and a medal.
Technical running t-shirt/vest: We would love you to wear our Care for Veterans t-shirt and raise awareness. If you don't already have one, we are asking for a donation of £5.50 to cover the cost of a technical running t-shirt or vest and postage within the UK.
Leaderboard: Get your 11k personal best! Then add your time to our leaderboard and send us your pics for our gallery.
Do I need to raise sponsorship? Once you have paid your registration fee, there is no minimum amount to donate. However, it has been a very difficult time for fundraising and we really appreciate any amount you can raise in sponsorship. Every penny goes directly to Care for Veterans to enable us to provide the high standard of care and rehabilitation which makes a huge difference to the physically disabled veterans we support.
By taking part, you will help to ensure that our veterans don't have to face the toughest battle of their lives alone.
To sign up please fill out the form below or contact us on 01903 218444 or fundraising@careforveterans.org.uk
Please use the form below to pay your registration fee or go to: https://cafdonate.cafonline.org/14958
If you are part of a group or club, we would appreciate you helping us to promote this event.
Please download and share these images: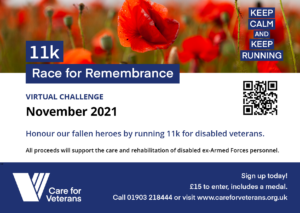 < Back to Events