Cricket Club Auction Raises Vital Funds for Local Charities
Every year, Chippingdale Cricket Club holds a curry night and auction at local award-winning curry restaurant, Mahaan, to raise money for two local charities.
Care for Veterans and Worthing Churches Homeless Projects benefit from the money raised by the sale of auction items, which are donated to the Cricket Club over the course of the year. Auction Lots were as diverse as a race experience at Goodwood, a plumber for the day and a Karcher window vac!  There was also a quiz before the auction which tested the general knowledge of attendees.
Each charity was presented with a cheque for £655 by Paul Wood and Paul Baker from Chippingdale Cricket Club. Also in attendance at the presentation were Cllr Hazel Thorpe, Deputy Mayor of Worthing, Ali from Mahaan and 99-year-old Rene Barclay, a resident at Care for Veterans who gratefully received the cheque on behalf of the charity.
Elizabeth Baxter, Head of Fundraising & Marketing at Care for Veterans said, "We really are very grateful to Chippingdale Cricket Club for their kind and continued support for our veterans.  The curry night and auction is a fantastic event, much enjoyed by those who attend, and £655 is a fabulous sum of money which we very much appreciate. This money will be very well spent on the veterans in our care."
Sue Stevens, PR & Fundraising Manager at Worthing Churches Homeless Project said, "Worthing Churches Homeless Projects could not continue to help the homeless and insecurely housed in our community without the support of local groups like Chippingdale Cricket Club raising much needed funds for us. Their continued support is very much appreciated by everyone involved with our charity. This was an amazing amount of money which will really help."
< Back to News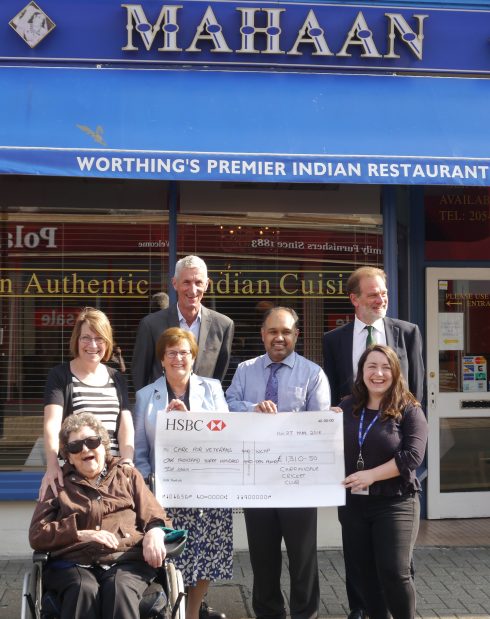 Responsive site designed and developed by
Click to go Madison Web Solutions' website