Disabled veterans look forward to Royal Wedding
Residents at local charity, Care for Veterans, have created a wedding display in anticipation of Prince Harry's wedding to Meghan Markle next weekend.
The veterans who live at the charity, based at Boundary Road, Worthing, regularly make wall displays as part of their Social and Recreation programme.
The thriving Social and Recreational department hosts an array of daily activities, including music therapy, films, arts and crafts and games, all of which are designed to care for residents' emotional well-being, encourage participation and increase social inclusion.
The latest display shows a bride and groom leaving a church, with two doves flying above them.
Social and Recreation therapist, Gill Hastings, explained: "The residents always like to get involved and try new things. Making these wall displays is so much fun; it encourages their creative skills, and they love seeing the end result displayed proudly for everyone to see. We'll all be watching the Royal Wedding here, hopefully with lots of bunting and flag waving!"
< Back to News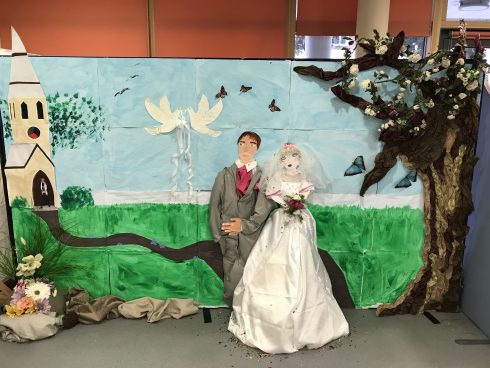 Responsive site designed and developed by
Click to go Madison Web Solutions' website