New High Sheriff visits Disabled Veterans at Local Charity
On Wednesday 15 May, newly appointed High Sheriff of West Sussex, Davina Irwin-Clark, visited Worthing-based charity, Care for Veterans, which cares for physically disabled ex-Servicemen and women.
Mrs Irwin-Clark has strong links with the military; her grandfather commanded the Royal Sussex Regiment and her son is currently serving in The Irish Guards, so Care for Veterans, as a charity, was of particular interest to her.
On her visit, she was given a tour of the facility, including the physiotherapy and social and recreation departments. Here, she spoke to residents about their time at Care for Veterans, and how the charity is providing long-term nursing care, respite care and rehabilitation, helping to give the veterans the very best quality of life in spite of their disability or injury.
Following the tour, she met with more of the veterans for tea and cake, and spoke with Care for Veterans' Chairman of Trustees, Commodore James Fanshawe and CEO Andy Neaves. Mr Neaves said, "We are delighted that the High Sheriff has come to see us and spend time with our veterans and we very much appreciate her interest and support."
After the tour of the facility, Mrs Irwin-Clark said, "I could not be more impressed with all I saw and experienced during my visit to Care for Veterans. It was heart-warming to come across such high morale among the staff and to see the veterans undertaking their arts and crafts, outings and therapeutic work. The care and rehabilitation is so clearly effective and I was particularly struck by the happiness of the atmosphere which was a personal joy to experience."
< Back to News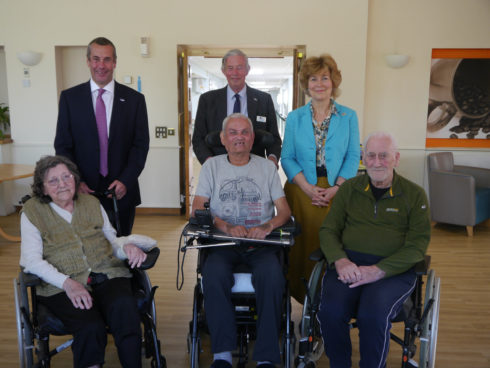 Responsive site designed and developed by
Click to go Madison Web Solutions' website