Princess visits Care for Veterans
On Tuesday 31 October, HRH Princess Alexandra came to Worthing to visit residents and staff at local charity, Care for Veterans, of which she is President.
The charity (formerly known as The Queen Alexandra Hospital Home), has recently extended one of its wings, thanks to a grant from the LIBOR Fund. The extension has allowed Care for Veterans to enlarge and improve the facilities in two existing rooms and build two additional single en-suite rooms. This not only provides two more beds, enabling the charity to care for more veterans and their family members, but it also gives greater flexibility when admitting both permanent and respite residents.
Her Royal Highness came to officially open the extended ward, which is to be renamed the Richmond Wing.
The Princess was taken on a tour of the new facilities by Chief Executive, Andy Neaves, and Director of Nursing, Valerie Walker, where she met and spoke with residents and staff.
CEO, Andy Neaves, said: "The extension project has gone really well and we would like to thank the team responsible for all their hard work. We are very proud of what has been achieved and the rooms had their first occupant from September. Furthermore, we can accommodate the two extra rooms within our current staff level so our staff costs have not been increased. We're grateful to HRH Princess Alexandra for coming to see us here at Care for Veterans, and formally opening the new Richmond Wing. Many veterans have enjoyed the visits by The Princess over the years, and the charity is very proud to have her continued support."
During her visit, the Princess also confirmed that she will remain President of the charity for the next three years.
See all the photos from the visit on our Facebook page.
< Back to News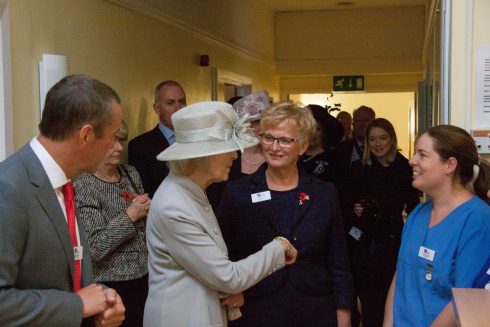 Responsive site designed and developed by
Click to go Madison Web Solutions' website