The RAF Benevolent Fund has awarded a grant of £15,000 to Worthing-based charity, Care for Veterans. The grant will help fund rehabilitation services for RAF veterans and their dependants.
The RAF Benevolent Fund is the RAF's leading welfare charity. It provides support for all serving and former members of the RAF as well as their partners and dependent children.
Care for Veterans provides residential nursing care and rehabilitation to physically disabled ex-Service personnel, including those who have served in the RAF. This generous donation from the RAF Benevolent Fund will pay for therapy sessions such as physiotherapy, occupational therapy, speech and language therapy, and a range of social and recreational activities in the Wellbeing Hub for RAF veterans, like Doug.
Current resident, Doug, is a former Flight Engineer and Air Gunner. He was called up to the RAF a year or so after marrying his wife, Brenda, in 1951, at the age of 20.
Doug explains, "I was called up just as the Korean War was ending, so most of our guys were coming home when I joined."
"I took part in training exercises, flying in Sunderland and Shackleton aircrafts. We used to take gunnery practice at Chesil Beach, near Dorset."
After two years' service, Doug returned home and continued his manufacturing work, and became a very successful factory owner.
Doug came to live at Care for Veterans following a stroke: "I went first to a home in Lancing, which was very nice, but they didn't have any on-site facilities. My daughter started looking around and found this place, which has a physiotherapy department. It's much better to have it in-house as it gives you a better chance of making some progress, and I like to have a challenge. All of the facilities here are great; it has everything, so my family don't need to worry about me."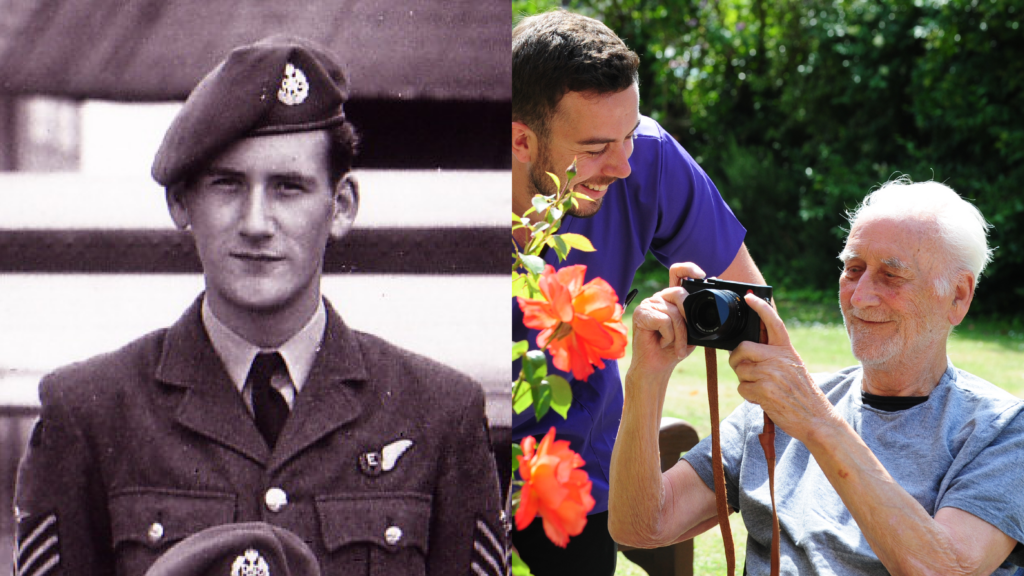 James Bacharew, Head of Fundraising and Marketing at Care for Veterans, said: "We are very grateful for the RAF Benevolent Fund's continued support, especially in these difficult times. As well as being hard on our residents, Covid has also had a major impact on the charity's income. This grant is much appreciated as it allows us to continue caring for the nation's armed forces veterans."
Current residents in Care for Veterans' 60-bed facility are aged between 35 and 98 years old. The majority have Acquired Brain Injury (ABI) or a degenerative neurological condition, such as multiple sclerosis, motor neurone disease and Parkinson's. As an independent provider, the charity can fill the gaps often found between healthcare and social services.
This generous grant will help towards the over £1.5 million needed each year for the charity to maintain its nursing and rehabilitation services for ex-Service personnel.
To find out more about Care for Veterans, visit www.careforveterans.org.uk or call 01903 213458.
< Back to News