Winners of our Glorious Gardens Competition have been announced…
This summer we asked you to send in photos of your garden to be in for a chance of winning some garden goodies.
The finalists in each of the four categories have been selected by our esteemed panel of judges comprising TV presenter, Nicki Chapman, and top UK gardeners, Martyn Cox and Darren Rudge, the 'Laughing Gardener'.
Darren Rudge said: "It's been great to be asked to judge this competition and my privilege to look through the entries. It was difficult to make any decisions as the quality of the entries were so high; some should consider entering the 'Nation in Bloom' competition. A great competition which hopefully will be repeated again. Well done to all who sent photos in."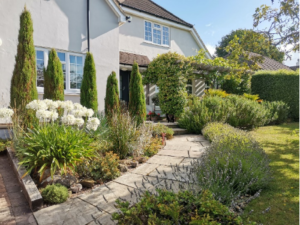 Congratulations to Paul Tosey, who came top in the Front Garden category and is our overall winner.
Mr Tosey held a Garden Open Day in aid of Care for Veterans in 2019 and we are hoping to become a garden volunteer at Gifford House when Covid restrictions are lifted.
The judges decided that "The Tosey front garden stood out from the rest. Neat, well maintained and clearly a garden that has been enjoyed during lockdown."
Best Back Garden – Peter Jones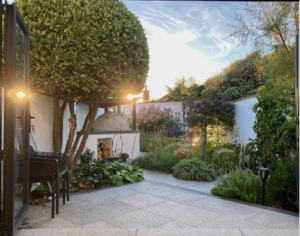 The winner of the back garden category, Peter Jones, works as a gardener, he said: "I built and planted my garden that was inspired by a visit to Salvador Dali's Garden in Spain. It is designed to cope with the changing climate and is a drought tolerant walled garden with a Mediterranean feel."
Best Container/Balcony – Kim Bowen-Wood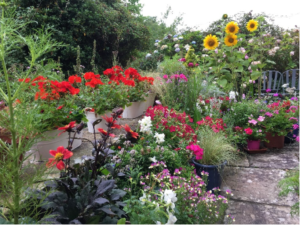 Kim Bowen-Wood, a fundraiser at Care for Veterans was delighted to win best Container/Balcony. Although her plot is small, she has managed to fill it with lots of vibrant colours.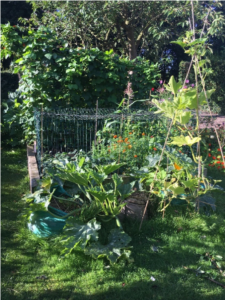 Best Vegetable Plot – Ann Munday
Ann Munday's front garden vegetable plot is not only a winner, but has been a source of food, exercise and fun for Ann and her husband, Chris, especially during the lockdown. Often people passing by on their daily walk would stop and chat.
All of the category winners received an essentials gardening kit from Drapers Tools and as Overall Winner, Paul Tosey also received an engraved spade.
Martyn Cox said: "There's no doubt our gardens were a haven during lockdown as testified by the entries in the Glorious Gardens competition. It was a great opportunity for people to show off their handiwork, whatever the size of their plot. We saw front gardens and back gardens, allotments and balconies, and everything else in between. As judges, we were amazed by the high standard of entries and congratulate everyone who took part."
Thank you to everyone who entered and to Draper Tools, B&Q Worthing and our judges.
< Back to News