Third annual Glitter Ball is dazzling success
On Saturday 24 November, Worthing-based charity, Care for Veterans, held its third annual Glitter Ball at Fontwell Park Racecourse, and raised a total of £9,000.
The 130 guests were welcomed with a drinks reception and entertainment courtesy of jazz pianist, Lucy Goldberg. Then it was onto a delicious three course dinner, before everyone got on the dancefloor to dance the night away to fantastic local band, The Alternatives!
Other fun games during the evening included Play Your Cards Right, and there were opportunities to win prizes in the charity's raffle.
Auctioneer, Philip Belcher, from Bellmans, coordinated the charity auction, which included Lots such as an exclusive flight simulator experience, a weekend break and a private wine tasting.
Care for Veterans' Fundraising Officer, Christine Gillott said, "I'd like to thank all of the guests who came and helped us raise such a fantastic amount of money for our veterans. To all of our volunteers and everyone who made the ball possible, we're so grateful for your support! All of the money raised this evening will go towards the care and rehabilitation of our disabled veterans, who are facing the toughest battle of their lives."
< Back to News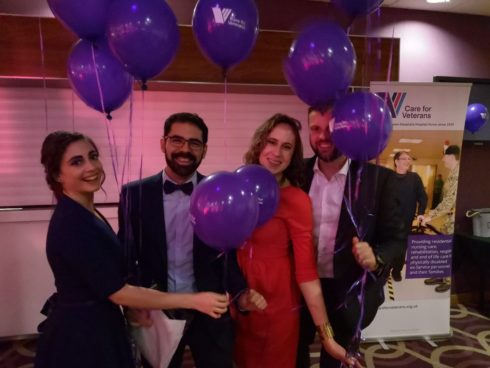 Responsive site designed and developed by
Click to go Madison Web Solutions' website