Veterans' charity has huge success at Worthing 10k
On Sunday 3 June, 55 runners took on the Worthing 10k in aid of local charity, Care for Veterans.
The team, dubbed the 'Fantastic Fifty', included staff from Care for Veterans, family members of Care for Veterans' residents, a serving soldier, and ex-Service personnel.
Tyron Crayford, who is a resident at Care for Veterans, also took part and was pushed around the course in his wheelchair by four of the Fantastic Fifty.
Care for Veterans, based at Boundary Road, Worthing, provides residential nursing care, rehabilitation, respite and end of life care to physically disabled ex-Service personnel and their family members.
Care for Veterans' Fundraising Officer, Christine Gillott, who recruited runners for the Fantastic Fifty, and who also ran the race herself, said: "What a fabulous day at the Worthing 10k on Sunday; the sun shone, the atmosphere was brilliant, the running was fantastic and the support from the local community was amazing! I want to thank everyone who took part to support our veterans; we really do appreciate it."
So far, the event has raised over £8,000 for the charity.
< Back to News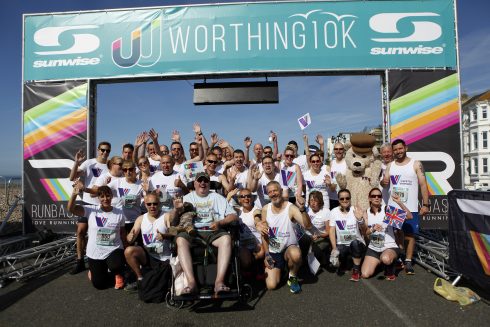 Responsive site designed and developed by
Click to go Madison Web Solutions' website