On Sunday 4th June, twenty-eight individuals took on the Worthing 10k and raised vital funds for veterans' care.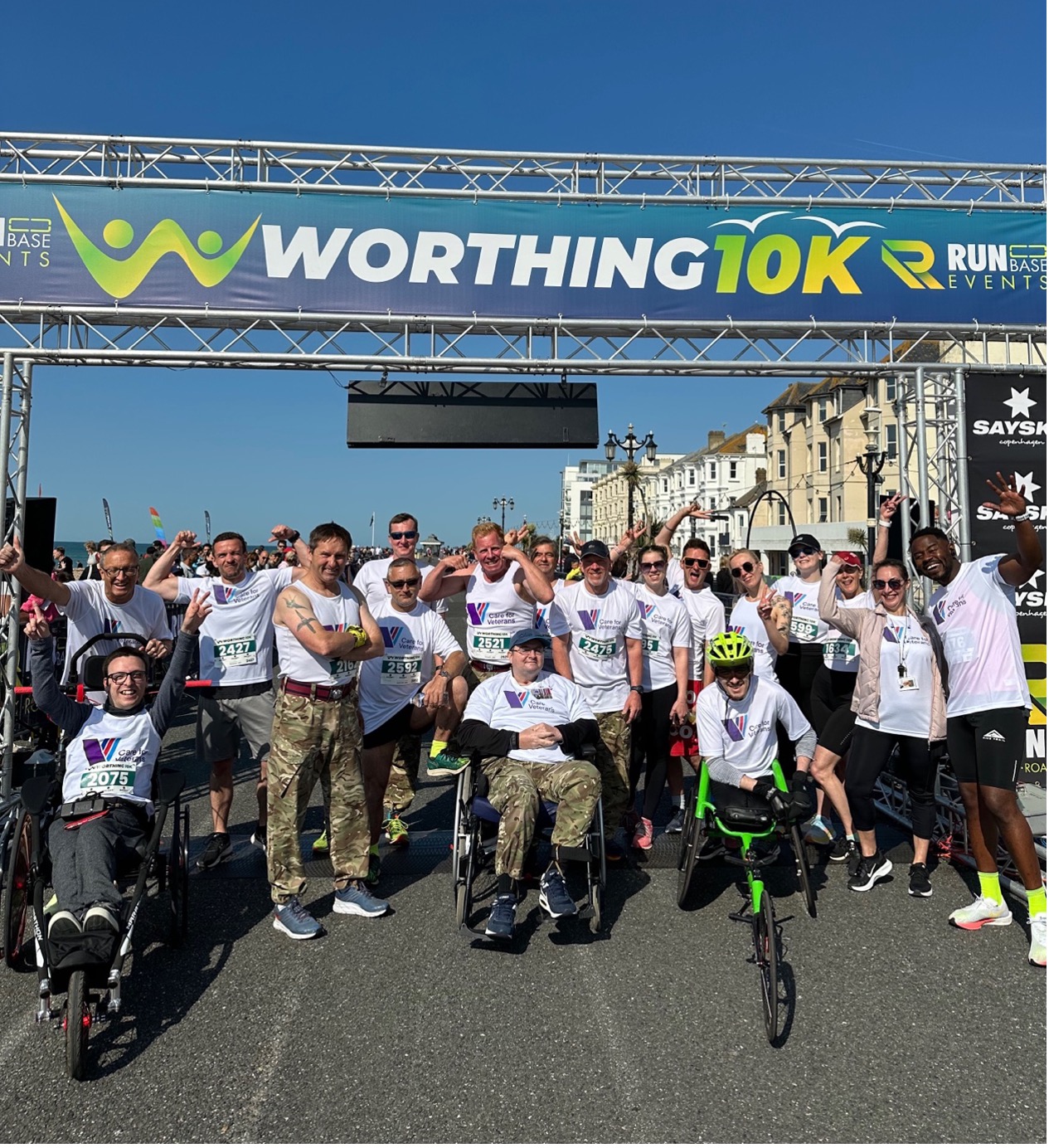 The team consisted of new and returning runners, alongside three wheelchair participants, including Stephen Merridue, Morgan Woods and Steve Boylan.
Army Veteran Steve Boylan served in Kosovo and Afghanistan until a life-changing road accident caused a brain injury, affecting his mobility and speech. With help from the team at Care for Veterans, Steve has been able to work on living as independently as possible. To help him around the course, his Royal Engineer colleagues and friends pushed his wheelchair and cheered him on, ensuring that he could still participate in this lively and memorable event.
The fastest Care for Veterans participant was 20-year-old Morgan Woods, who lives with a neurological disorder affecting his peripheral nerves. In his specially adapted racing wheelchair, he made an impressive time of 32 minutes and 29 seconds, followed by Stephen Merridue, who was pushed by his father David, at 51 minutes and 11 seconds (a new personal best!).
The Care for Veterans team managed to raise nearly £2,000. Fundraising Officer Myra Jasper commented, "We are blown away by the incredible efforts made by our running team today.
They should be so proud of themselves – not only have they helped raise funds and awareness for disabled veterans' vital care services, but they have also achieved a fantastic personal triumph. We really can't thank them enough.
We'd also like to send a massive thank you to the Worthing 10k organisers for creating yet another amazing event and our dedicated volunteers, Hilary, David and Sid, for their support."
Care for Veterans has been providing physically disabled ex-Service personnel with long-term nursing care, respite, and award-winning end-of-life care since 1919. As the charity receives no regular Government funding, fundraising at events like the Worthing 10k is instrumental to the continuity of the first-class care they offer.
If you're looking for a challenge, why not sign up to the Goodwood Inflatable 5k on Saturday 2nd September? Bounce through an epic obstacle course comprised of 32 inflatables to raise crucial funds for disabled veterans and their families. Click here to sign up now.