The Royal Navy & Royal Marines Charity (RNRMC) and Greenwich Hospital have awarded Worthing-based charity Care for Veterans a generous grant of £66,500 to support their mixed rehabilitation programme.
The RNRMC is the principal charity of the Royal Navy, and exists to support sailors, marines and their families, for life. Since 2007, the charity has distributed almost £30,000,000 in grants to over 30 front line charities.
For over 104 years, Care for Veterans has provided care and rehabilitation to disabled ex-service personnel from the ages of 18 and up. The majority of residents are in wheelchairs, and many are living with life-changing injuries or diagnoses. Their in-house services include physiotherapy, occupational therapy, speech and language therapy, wellbeing activities and a wheelchair clinic. It is through these services that residents regain and maintain independence, enabling them to enjoy the best possible quality of life.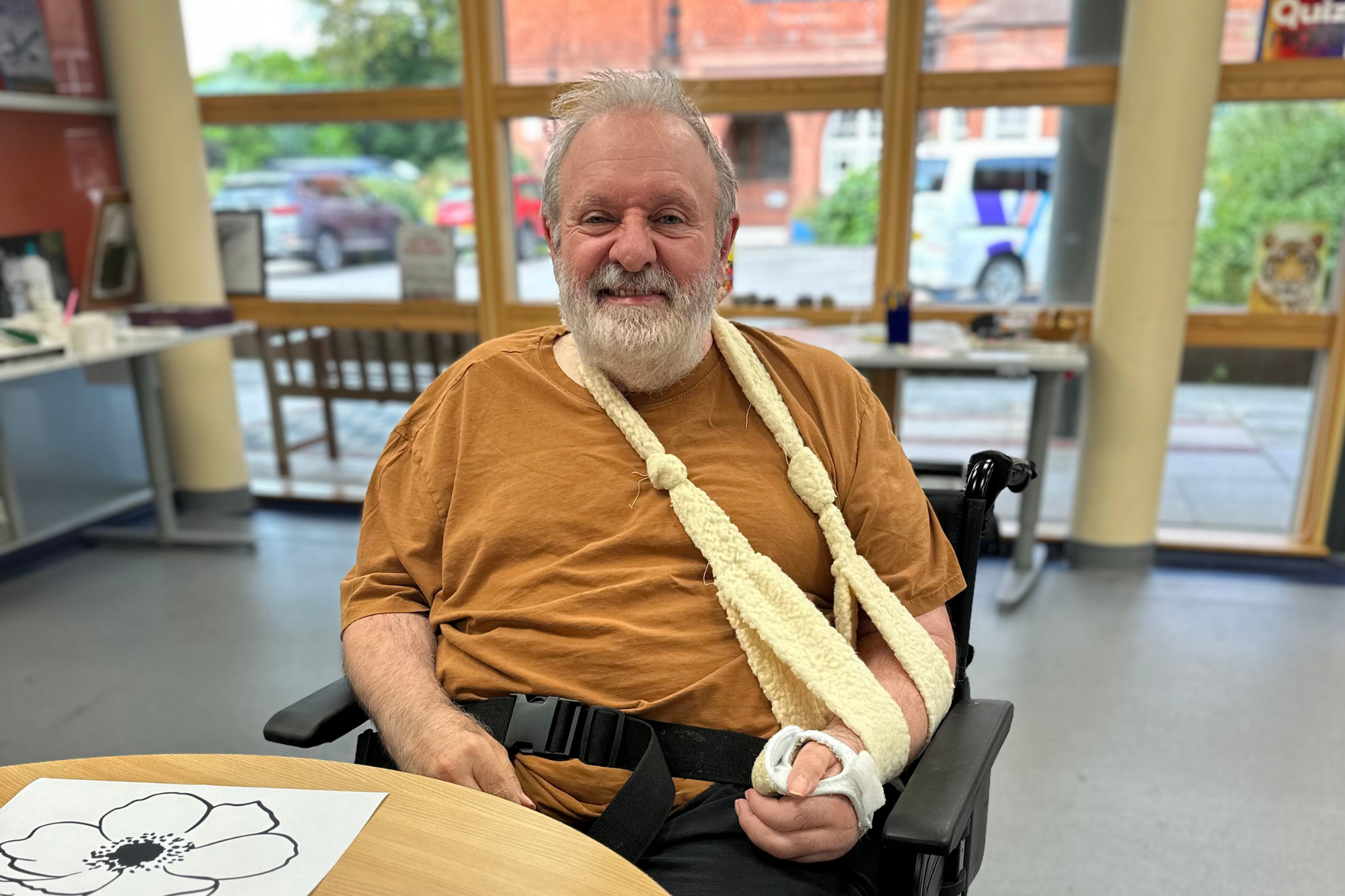 When Royal Navy veteran Andy Dickinson suffered a stroke in 2019 and lost the ability to walk, move his left arm and use some of his eyesight, he also lost hope for the future. Initially, Andy received some help from the NHS and tried to make adjustments to his home, but was still in need of more support. In October 2022, he came to live at Care for Veterans and began a new journey.
Since Andy's arrival at Care for Veterans, he has made impressive efforts to engage with the rehabilitation programme on offer. This has meant attending physiotherapy twice a day for a scheduled cycle, joining in on wellbeing hub activities, and, more recently, attempting prolonged assisted stands to rebuild his lower limb strength.
When asked how Andy feels the services at Care for Veterans have helped him, he said: "I can see a measurable response and increase to my abilities. I wouldn't be able to do what I do on the cycle machine if it wasn't for the physiotherapist's skills and knowledge. It's been superb. My takeaway feeling after every session is the positivity of the place. The Wellbeing Hub has meant I have met lots of people I wouldn't otherwise meet, some of which are so fascinating." Andy added, "I would like to emphasise how grateful I am to all the staff at Care for Veterans – from the carers to the therapists to the cleaners – who have all taken the time to get to know me".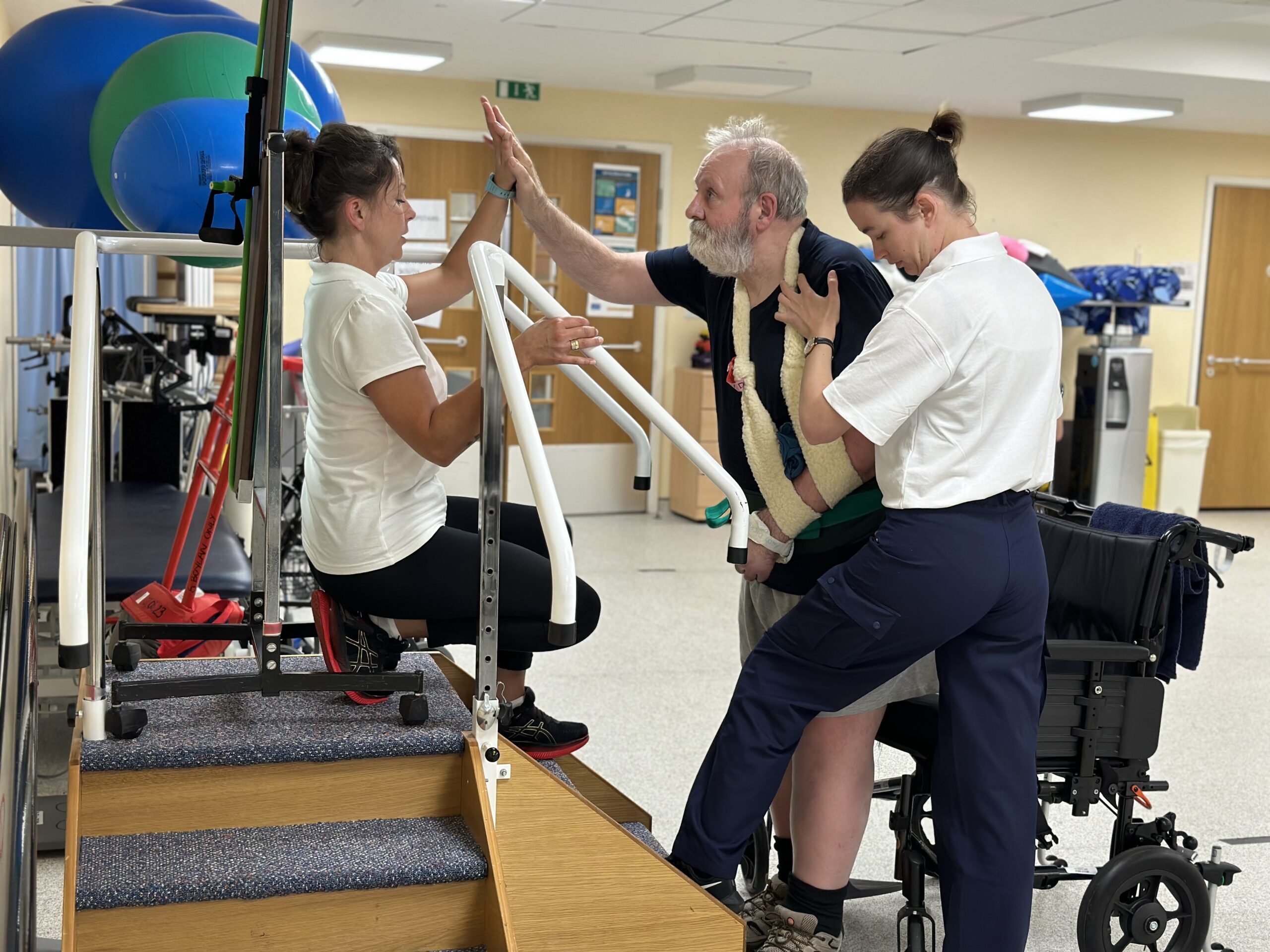 Physiotherapist Magda commented, "it really is so inspiring how, despite the difficult hand Andy has been dealt in life, he still attends each of our sessions with renewed determination and vigour. He is set on rebuilding as much of his strength as possible to enable the maximum amount of independence. We are honoured to support him on this journey."
Rehabilitation Assistant Lisa said, "Since Andy arrived, we've witnessed an amazing transformation to his mental health. Initially, he had a lot of frustrations with his condition and struggled to think positively. However, from interacting with fellow residents, to attending musical performances and engaging with activities, he has been able to really turn that around".
It is with thanks to remarkable charities like the Royal Navy & Royal Marines Charity that Care for Veterans is able to continue their life-changing services. With no government funding available, and £1.5 million needing to be raised every year, the services are very dependent on the kindness and generosity of organisations like the RNRMC.
Chief Executive of Care for Veterans Kate Schroder stated: "We are immensely grateful to the Royal Navy & Royal Marines Charity for their ongoing support. From improving veterans' mental health to enabling them to achieve their physical goals, the impact this funding will have on individuals in our home is enormous."
The RNRMC's Director of Relationships and Funding, Mandy Lindley said, "The Royal Navy and Royal Marines Charity and Care for Veterans have worked together for many years to support physically disabled ex-serving personnel. The remarkable work they do in rebuilding lives and fostering a strong veteran community is truly inspiring. We take immense pride in providing funding for their tailored Mixed Rehabilitation Project, which is designed to meet the ever-changing, complex needs of Royal Navy and Royal Marine veterans of all ages."
To find out more about Care for Veterans, click here.
< Back to News