It was a tee-rific day on Thursday 20th October, when 20 teams took part in a Charity Golf Day for Care for Veterans, raising nearly £13,500 for disabled veterans.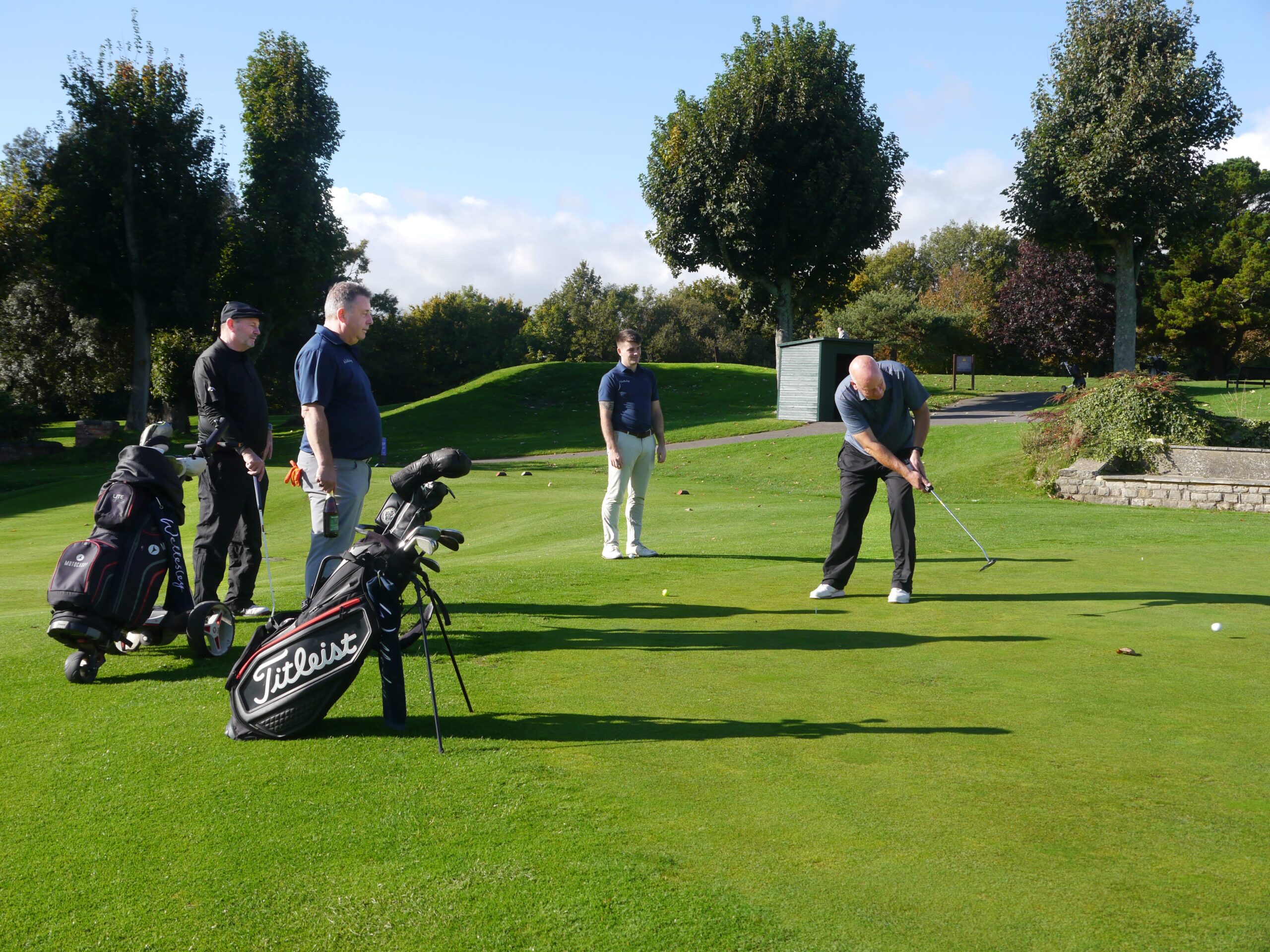 With a hot bacon roll and a coffee to kickstart the day, attendees were ready and rearing to get around the beautiful 18-hole Vardon course at Worthing Golf Club. The weather, however, had other plans in mind. By 10am, rain was coming down thick and fast, followed by lightning and rumbles of thunder. Participants sought shelter in Worthing Golf Club House, and were brilliant at keeping a sunny disposition despite the challenging conditions.
By 11am, blue skies broke through, and all activities resumed. From bottle putting (hit a bottle to win it) to a beer buggy doing the rounds, golfers attended to the course with a cheerful and competitive approach. By mid-afternoon, the teams had gathered once again in the Club House to sit down for a two-course lunch with options including Pork Belly or Roasted Aubergine, followed by Sticky Toffee Pudding or a cheese board.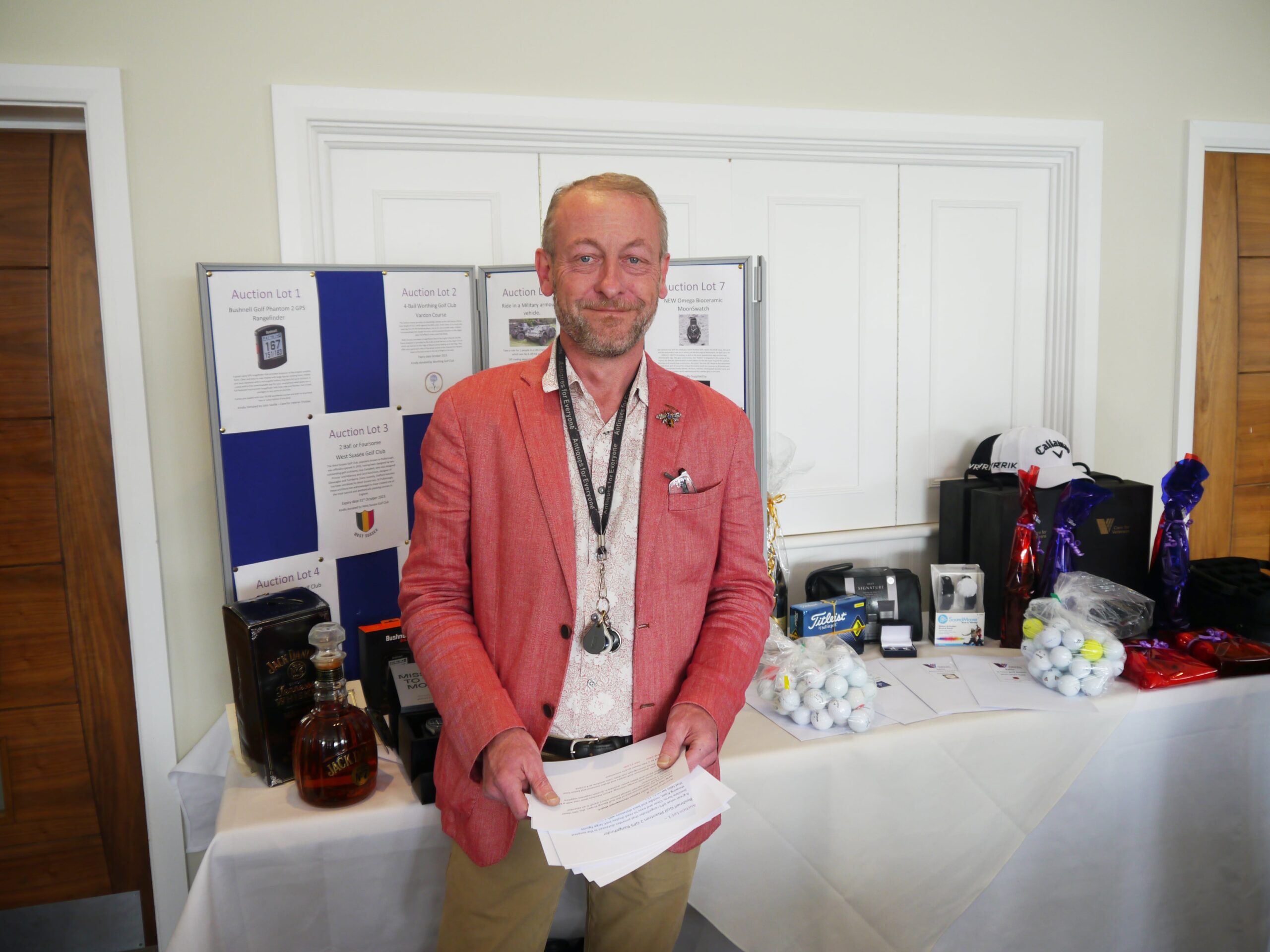 Whilst the teams tucked in, local antique dealer and TV personality Henry Nicholls conducted an auction. With Tag Heuer, Rolex and Omega watches as kindly supplied by James Ross Jewellers, alongside other luxury items on offer, attendees had the chance to secure a unique prize to take home. Once the auction had finished, a raffle was quick to follow. With the chance of winning a BMW car hire for the weekend, Worthing Thunder family tickets or an afternoon tea for two at Bailiffscourt among the many exciting prizes, tickets had been purchased in their troves.
In attendance were two of our brilliant veterans, Les Hollebone and Gus Goward. Les is a WWII veteran and was a prisoner of war in Burma for five years, and Gus, an ex-Army veteran who served with REME. When they were introduced to the group after lunch, the room gave them a warm and respectful clap for their services, and several sought them out for a chat afterwards.
Finally, prizes of an engraved box with two bottles of wine and Callaway Golf caps were awarded to each team member from Proteus for obtaining the best scores of the day.
Senior Fundraiser Christine said, "I would like to say thank you for everyone who attended this sold-out event and has passed on such fantastic feedback after another wonderful golf day. We were very well looked after at Worthing Golf Club, as always, and we look forward to having an event again with them next year.
"Without the tremendous support of our participants and donors, we would not have been able to raise such a magnificent sum for the support and rehabilitation of the disabled veterans in our care." – Christine
If you would like to join in with our next golf day, we will be at Ham Manor Golf Club on Thursday 27th April. Tickets will go live soon, so keep an eye on our social media platforms and website to secure your places whilst you can!
< Back to News