Local pub supports military charity with a month of fundraising
The Fox Inn, Patching has chosen to support the Worthing-based Queen Alexandra Hospital Home in July.
The month-long fundraising initiative takes place throughout July, and includes in-house collections and a pub quiz!
The quiz will take place at The Fox, Arundel Road, Patching on Tuesday 18 July at 6.30pm. It costs £5 per person to enter, and this includes a cone of chips per person. On the night, there will also be a raffle and other games for you to participate in.
The Fox Inn has a history with CFV, having supported the charity back in the 60s. In 1963, National Hunt champion jockey, Josh Gifford, knocked down a pile of pennies which had been collected on the bar for the charity. The pennies amounted to £42 8s 3d, which in today's money would be a whopping £815! The pub hopes to recreate this historic moment at the end of July.
 "We are delighted that the Fox Inn is supporting CFV and our residents again. It would be fantastic if we can beat the amount raised back in 1963 – but however much is raised will all go towards providing nursing and rehabilitation care for our veterans, helping them lead more independent and fulfilled lives." CFV Fundraising Officer, Samantha Stokes
< Back to News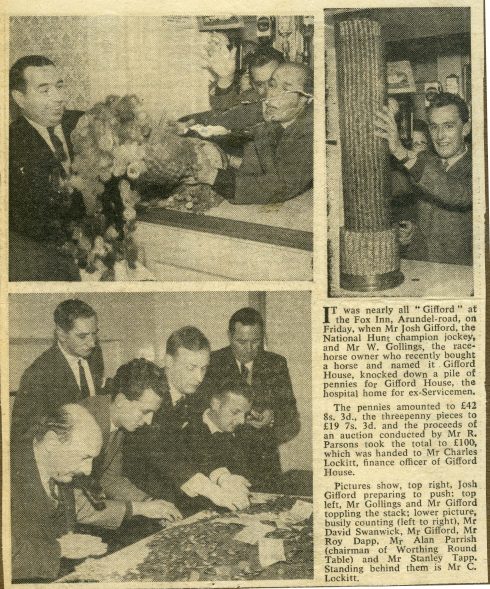 Since 1919, Care For Veterans has been providing care and rehabilitation for physically disabled ex-Servicemen and women. Services at CFV include nursing, physiotherapy, occupational therapy, and speech and language therapy.
To pre-book your team's place in the quiz, contact Sam on 01903 218444 or email: Samantha-stokes@cfv.org.uk
< Back to News
Responsive site designed and developed by
Click to go Madison Web Solutions' website