On Sunday 9th October, a team of 27 took part in the Worthing 10k to fundraise for Care for Veterans.
Amidst this brilliant team was 98-year-old Len Gibbon, an Army veteran of World War II Normandy Landings and 46-year-old ex-Royal Engineer Steve Boylan. With the help of their wonderful team, our two veterans were able to participate in their wheelchairs and be part of the fun. Together, the team raised over £3,000 to enable the continuity of vital services available at Care for Veterans.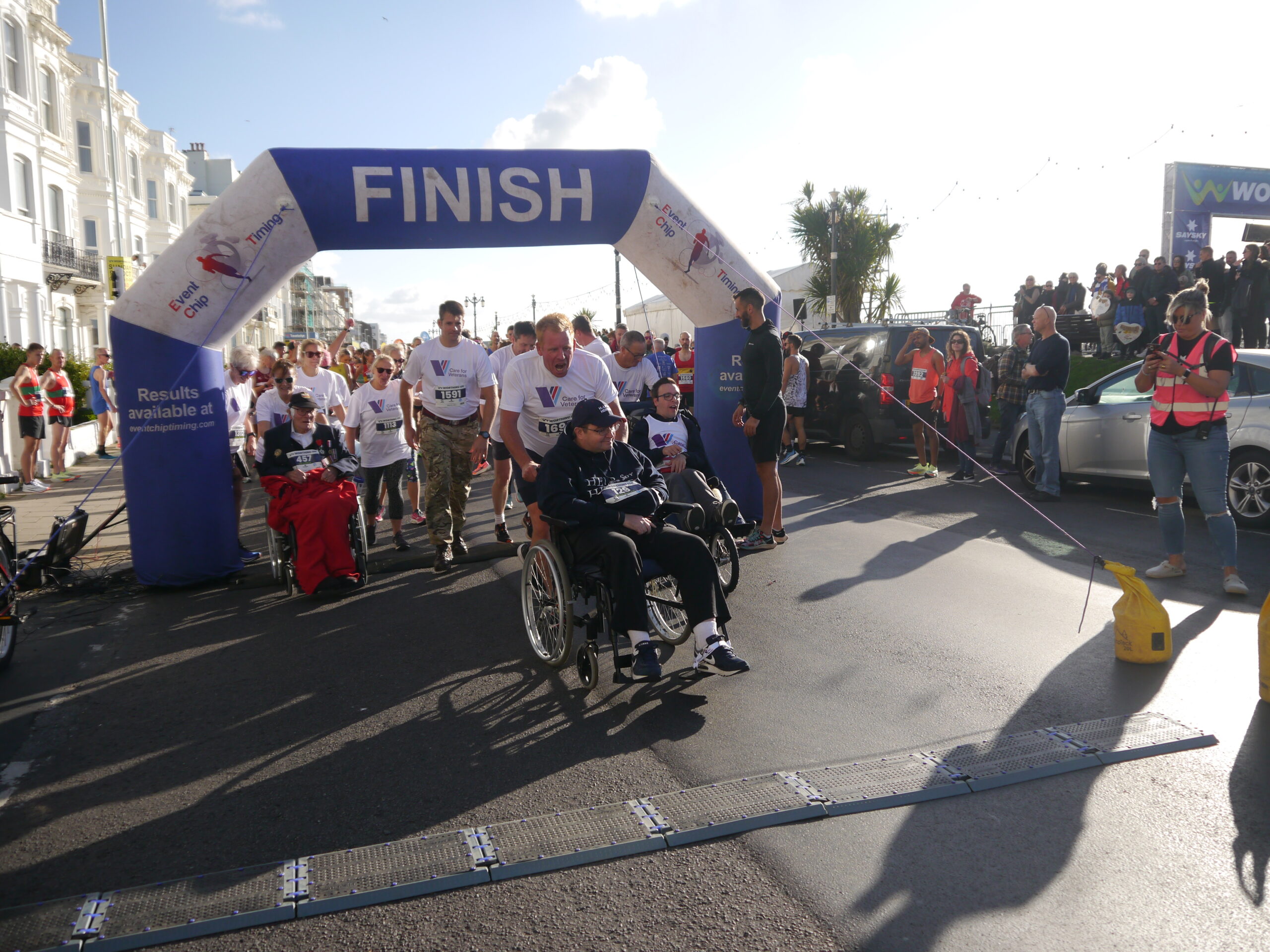 Participants and supporters were in for a treat with ideal weather conditions of fresh air and clear skies, alongside the bustling and electric atmosphere that comes with every Worthing 10k. To accommodate our wheelchair teams, the 10k organisers allowed a 5 minute head start before anyone else.
The fastest Care for Veterans runner was Lee Shearing, with an incredible time of 44 minutes and 52 seconds, followed by Dan Skipp, who achieved the 10k in just 48 minutes and 24 seconds.
To support the charity by cheering on the team, helping with collections, and assisting with all event needs, Northbrook College Combined Cadet Force were on hand. From guiding Gifford the Bear (the charity mascot), to motivating team members and engaging with the public, the Cadets were a fantastic help. In addition to this, we were lucky to also receive support from some of our long-standing and loyal volunteers, including Carol, Sid, Wilma, Jackie, Bernardine and Cleveland.
Fundraising Officer Myra said, "We are so very grateful to all of our inspiring runners and supporters for everything they've done to help Care for Veterans today. They gave their all, and we could not ask for a better team around us. Thanks to them, our essential care services for disabled veterans can continue to improve lives.
I would also like to send my sincere thanks to the Worthing 10k organisers for holding such an excellent event and to Tesco Shoreham for generously providing food and refreshments for our running team."
Care for Veterans has been providing physically disabled ex-Service personnel with long-term nursing care, respite, and award-winning end-of-life care since 1919. As the charity receives no regular Government funding, fundraising at events like the Worthing 10k is crucial to the continuity of the first-class care they offer.
< Back to News