Serving soldiers visit veterans at local charity
On Monday 6 November, soldiers from 12 Regiment, Royal Artillery based at Thorney Island, joined Worthing Mayor, Cllr Alex Harman, to open the Garden of Remembrance at Worthing Town Hall.
The soldiers, along with representatives of local charity, Care for Veterans, local dignitaries, military associations and schools, attended the ceremony to launch Remembrance Week, which honours those members of the armed forces who have been killed in conflict.
Following the ceremony, the soldiers returned to Care for Veterans to meet with the veterans the charity cares for, which has now become an annual tradition.
Care for Veterans' Head of Fundraising, Elizabeth Baxter said: "Remembrance Week is such an important time in order for us to remember those we have lost in conflict. We are very grateful to Major Wells, Sgt Major Walker and the 12 Regiment Royal Artillery for their ongoing support and for taking time to visit our veterans, who always love seeing the soldiers and sharing stories."
On Sunday 12 November, eight of the residents from Care for Veterans will journey to London to participate in the ceremony at the Cenotaph, to pay their own respects to fallen comrades.
See all the photos from the day on our Facebook page.
< Back to News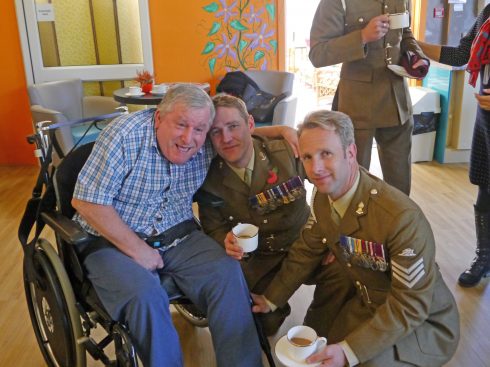 Responsive site designed and developed by
Click to go Madison Web Solutions' website