The Royal Air Force Benevolent Fund has awarded a generous grant of £18,000 to help disabled RAF veterans access Care for Veterans vital services.
One such beneficiary is Care for Veterans' resident Richard Means, an ex-RAF Senior Aircraftsmen who signed up when he was 17 years old in 1972. Richard worked as a Safety Equipment Fitter and ensured that parachutes were packed correctly. He loved his time in the RAF. His younger sister Pauline told us that "he liked the camaraderie – he was one of the chaps".
In 1979, Richard decided he was ready to marry, at which point the RAF helped him to re-train to become a bricklayer. Seven years later, Richard was involved in a car accident due to a drunk driver. Whilst he had no outward signs of injury, it became apparent in the following months that Richard had acquired a brain injury which affected his speech, swallowing, memory, and mobility. After undergoing assessments in three different hospitals, it was decided that there was nothing that could be done to help Richard further.
At the age of just 31, Richard's life had changed forever.
Initially, Richard was placed in a Care Home for young people. When Richard's niece joined Care for Veterans fundraising team in 2008, his family came to realise that Care for Veterans might be a more suitable permanent home. Richard has now been living at Care for Veterans for over 14 years. When he first arrived, he was suffering from poor mental health, which meant he wasn't keen on socialising or leaving his room. Fortunately, the plethora of activities and diversity of residents coaxed Richard out of his shell and in no time, he began to make the most of what Care for Veterans can offer.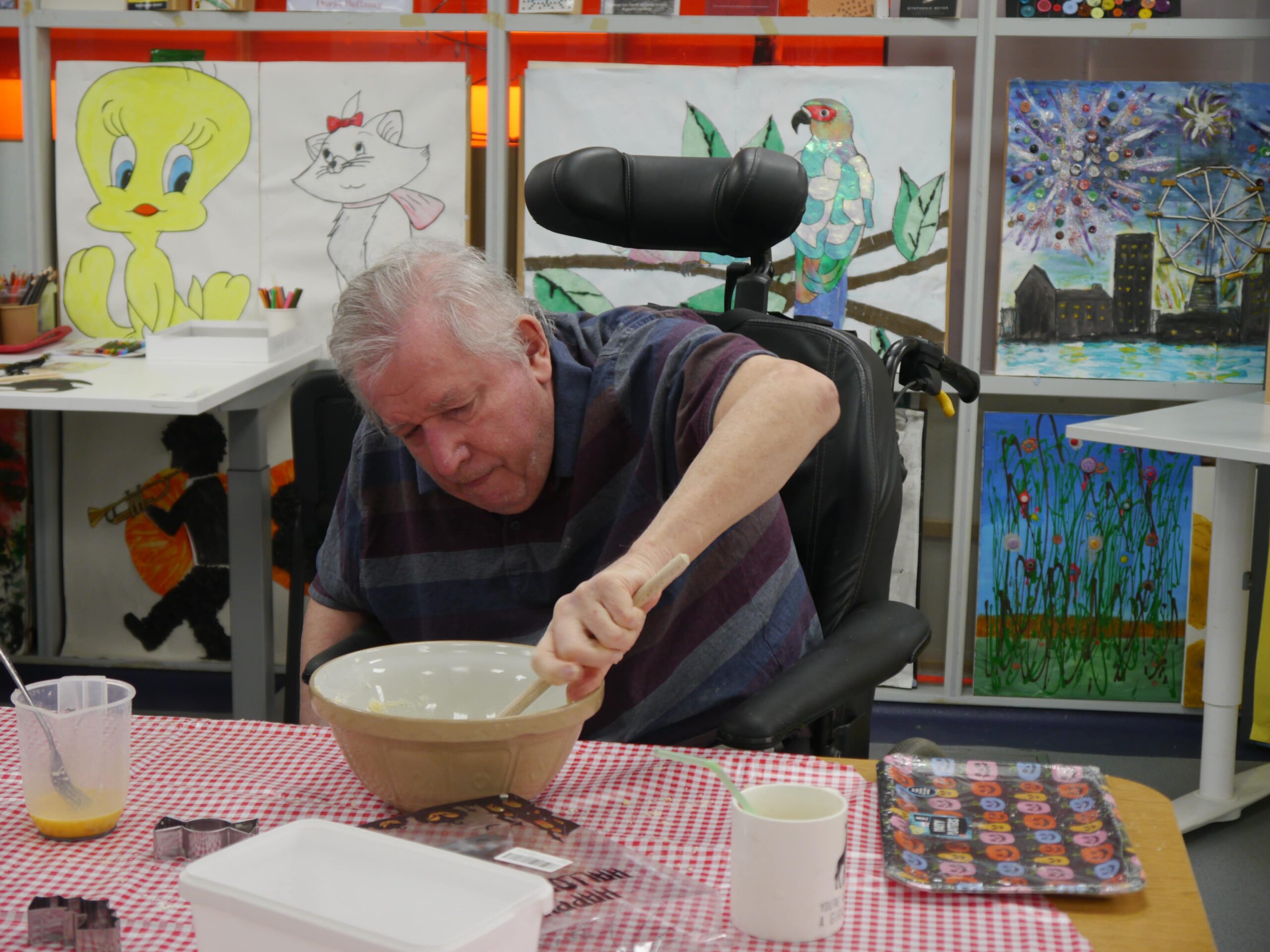 Rehabilitation Assistant Lisa said, "Richard is well known for his cheekiness, and you can't help but love it – his laughter and personality are addictive! Richard enjoys doing puzzles, quizzes, crosswords and playing dominoes. He takes part in cooking club too. Recently, we helped Richard make an email account so he has the option to email his brother. Richard enjoys social events, including concerts. He is a very sociable man with a great sense of humour. Without these activities, Richard would be very isolated and become very low."
With Care for Veterans, Richard has been able to attend a Buckingham Palace Garden Party, Rugby matches in Twickenham and has been accompanied to the Cenotaph in Whitehall, London, for the Remembrance Parade. Richard's sister Pauline shared, "The team there are absolutely wonderful. Care for Veterans is the best place Richard could have gone to".
Thanks to the generosity of the RAF Benevolent Fund, Richard's more urgent care needs can also be seen to by our expert in-house team. Due to a condition called 'dsyphagia', which involves trouble swallowing, Richard receives assessments and modifications from our Speech and Language Therapist Yasmine for eating and drinking.  Yasmine said, "my work with Richard ensures his safety when swallowing and maintains his quality of life around eating and drinking".
Care for Veterans offers rehabilitation, respite, long-term care and award-winning end-of-life care for disabled ex-services personnel and their families, including those who have served in the RAF. The grant will enable RAF veterans to make the most of our in-house services, which include physiotherapy, occupational therapy, speech and language therapy, assisted recreational activities and a wheelchair clinic.
For more than 100 years, the RAF Benevolent Fund has been providing lifelong support through thick and thin to serving and ex-serving RAF personnel and their families. As the RAF's leading welfare charity, they play a pivotal role in the lives of the RAF family, offering practical, emotional, and financial support when needed.
Care for Veterans Chief Executive Andy Neaves said, "I would like to offer my sincere thanks on behalf of both the residents and staff of Care for Veterans to the Royal Air Force Benevolent Fund (RAFBF). Their generous grant of £18k this year will make a significant difference to the lives of our 17 resident members of the RAF family. The grant allows some of our residents to improve their daily activities whilst preserving the function of those with degenerative conditions. We are truly grateful to the RAFBF for their continued support".
Irene Greenwood, Welfare Programmes Manager for the RAFBF, said: "Working closely with military charities is an essential part of the Fund's support to the RAF Family, allowing us to deliver a wide variety of projects which underpin their aims to improve the lives of their serving personnel and their families. The work that Care for Veterans undertakes is vital, even more so during these uncertain times globally, and the Fund stands by ready to help wherever we can".
If you would like to learn more about Care for Veterans, click here.